ATMPs at NLSdays 2019
Accelerating Development of ATMP Technology to Phase 1 Clinical Studies and Beyond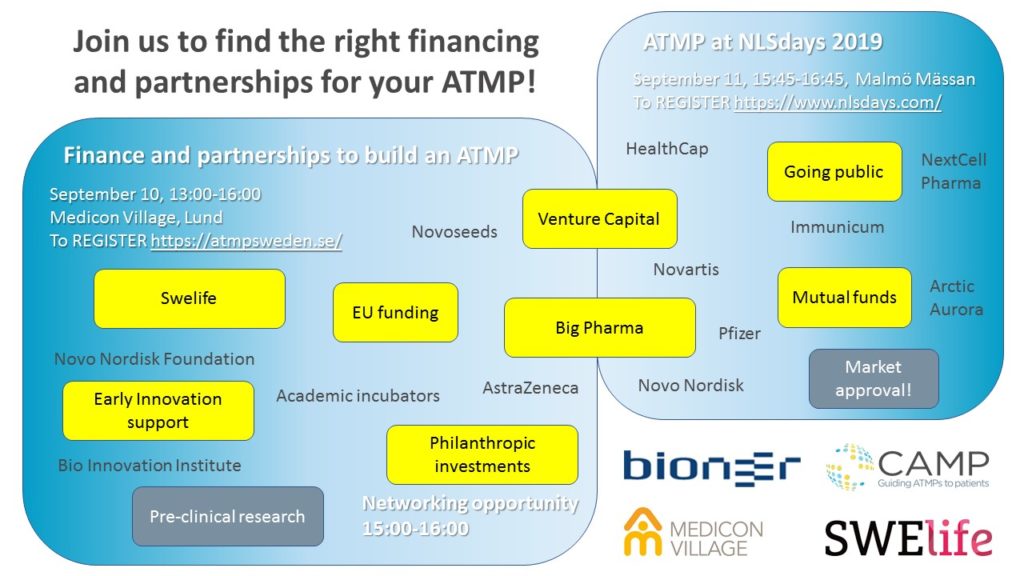 Aimed at researchers, clinicians and SMEs. Providing examples of ATMPs that have reached Phase I or further and what support and financing drove them forwards. The panel will discuss different strategies for SMEs, including going public, pharma collaborations and what big pharma companies are looking for when scouting external innovations.
Moderator: Christina Östberg Lloyd, Swelife
Panelists:
Malin Parmar, Professor, Lund University – Novo Nordisk collaboration
Leo Greonewegen, Business Development Manager – NextCell Pharma AB
Sijme Zeilemaker, Sr. Director Business Development – Immunicum
Björn Olander – HealthCap (Venture Capital funds)
Daniel Bolanowski – Arctic Aurora LifeScience (Mutual Fund)
Christoph Varenhorst – Pfizer
Cecilia Ahlin – Novartis Oncology Cell & Gene
An afternoon session within the NLSdays program. This session is Swelife sponsored and geared towards support and financing options from phase I to reimbursement. Specifically, what is big pharma and Venture capital looking to invest in.
To Register for NLSdays go directly to their website: https://www.nlsdays.com/
Make sure to register also for our September 10th Medicon Village event for extra partnering opportunities.
Why come to NLSdays?
NLSdays is a Nordic event centered around commercial opportunities within the Nordic life sciences and partnering in regard to this. The inherent commercial need within the ATMP field makes this event a great forum for our researchers, clinicians and SMEs to gain the necessary knowledge and contacts to take their products forward. The event also attracts leading decision makers from biotech, pharma and medtech as well as finance, policy and regulatory authorities, the engagement of whom is essential to the development of specific financial and regulatory solutions for the ATMP field.