ATMPs in Sweden
Read more about what ATMPs are and what types of ATMPs are being developed in Sweden.
What are ATMPs?
Advanced Therapy Medicinal Products (ATMPs) are medicines for human use based on genes, cells or tissue engineering. This classification is European specific ensuring these products, which require manufacturing, are regulated as pharmaceuticals through the European Medicines Agency (EMA). Basically if a drug is a gene therapy or if it contains manipulated therapeutic cells, it's an ATMP. You can read more about this classification here; Advanced Therapy Medicinal Products (ATMPs).
There are 4 common aspects to all ATMPs;
They contain a cell and/or gene active substance
They require manufacture steps which must be performed under Good Manufacturing Practice (GMP) standards to ensure reliability and reproducibility
They must be tested through clinical trials to ensure patient safety and product function.
All of this is expensive! Which comes to the fourth common feature, they need to be developed with a commercial business model in mind to cover the costs of the development, manufacture and clinical trials.
The cell and/or gene active substances in an ATMP performs the following function;
gene active substance (normally DNA or RNA) has a therapeutic effect by regulating a genetic sequence or by introduction/modification of a genetic sequence – all gene therapies and gene corrected cell therapies are ATMPs/GTMPs
modified cells from a donor/patient are administered to treat, prevent or diagnose a disease through the pharmacological, immunological or metabolic action of its cells or tissues.
The 4 categories of ATMP are;
GTMP – gene therapy medicinal product, sCTMP – somatic cell therapy medicinal product, TEP – tissue engineered product and cATMP – combined ATMP.
See the following summary of ATMP classification;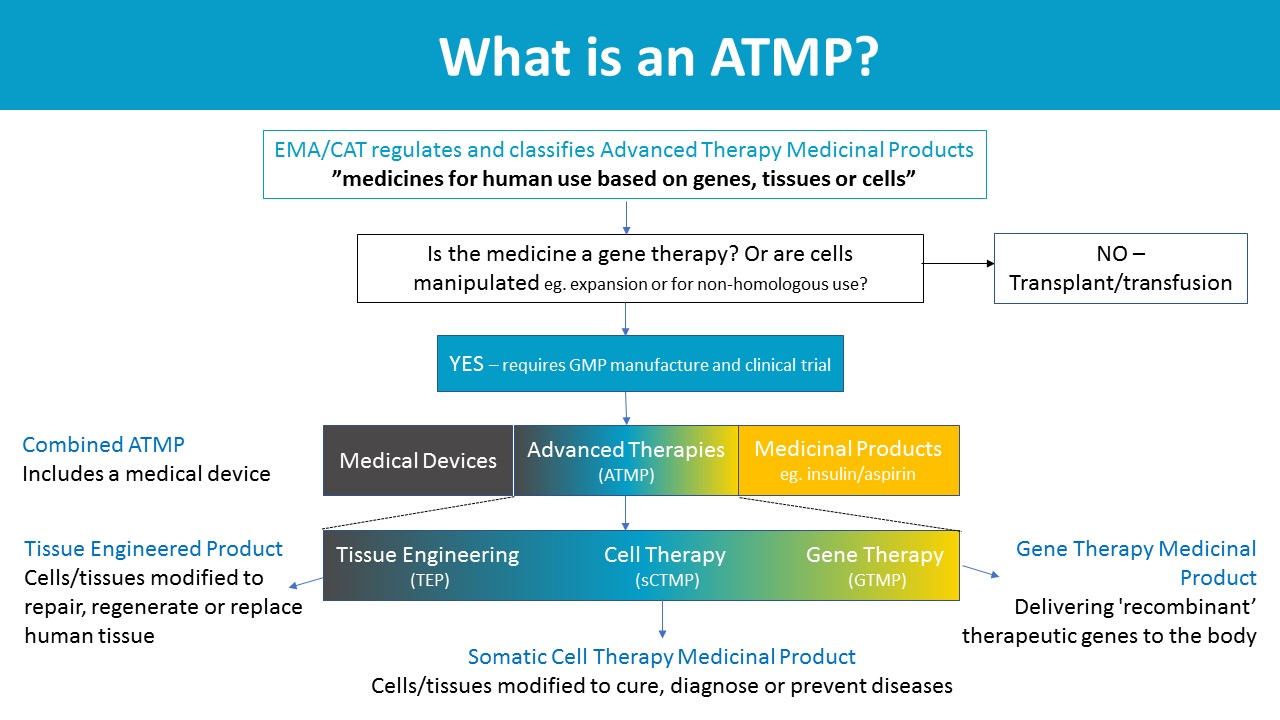 Why are cellular ATMPs different to traditional transplants?
ATMP cellular therapies differ from traditional transplants, which transfer cells to a patient to perform the same function as donor tissue. Traditional transplants do not use manufacture steps, do not go through clinical trials and have no business model. For an ATMP cellular therapy, the cells taken from a patient or donor are modified in a way that they are now deemed to behave differently to their natural function or they are to be transplanted to the patient for a purpose other than their natural function.
DISCLAIMER: All information on this page is subject to change upon receival of updated/more accurate information.
ATMPs Swedish companies are developing
Below is a brief summary of ATMPs being developed by Swedish companies. You can find more information about each company, including diseases targetted by their ATMP product and their website at our ATMP map, for best viewing open in full screen mode.
Swedish GTMPs
In Sweden, the vast majority of companies developing ATMPs are working with Gene Therapy Medicinal Products (GTMPs). GTMPs are an interesting and diverse grouping of ATMPs. Right now the most common forms of GTMP include;
bacteria expressing therapeutic human protein, delivered to a patient
ex-vivo gene correction of cells that are then returned to a patient
gene modification in-vivo using viral delivery
delivery of exosomes or extracellular vesicles containing transgene products from modified cells, not those from non-modified cells or those that do not contain functional transgene nucleic acids
therapeutic DNA vaccines – not including those against infectious disease, only those containing cells or expressing therapeutic non-viral genes.
delivery of therapeutic RNAs
See the following summary of Swedish ATMP companies;
Swedish sCTMPs
Following GTMPs the next largest grouping of ATMP companies in Sweden is the delivery of modified therapeutic cells, classified as sCTMPs (somatic cellular therapeutic medical products). In this category therapies range from delivery of allogeneic (donor derived) or autologous (patient derived); pluripotent cell differentiated cell types, amniotic cell types, NK cells, Dendritic cells or cartilage cells.
Swedish TEPs
A couple of companies in Sweden are developing Tissue Engineered products;
Verigraft with their de/receullarisation of veins
Cell Seed producing epithelial sheets for esophageal regeneration.
Swedish immunotherapy based ATMPs
One of the most advanced and exciting fields within ATMP right now is ATMP based immunotherapies for cancer treatements. These therapies are revolutionising the way that we tackle cancers through a diverse range of cell or gene based therapeutic modalities. Around one third of Swedish ATMP companies have immunotherapy based ATMP products. Listed here are also Swedish academics developing new ATMP immunotherapy modalities.
See the following summary of Swedish ATMP immunotherapy activities;