Three severly ill patients are now long term survivors in remission
Treatment of metastatic malignant melanoma patients with Tumor Infiltrating Lymphocytes (TILs) and Dendritic Cells (DCs) has shown long term survival and remission in a study performed at Karolinska University Hospital, Stockholm, Sweden. This double cellular therapy was given to patients who no longer responded to other types of cancer treatment, including treatment with Immune Checkpoint Inhibition (ICI). Of four severely ill patients treated with TILs/DC vaccine, three have responded with complete or near complete remission of the cancer.
The work is an investigator initiated study supported by grants from Cancerfonden, Cancerföreningen I Stockholm, Söderbergs stiftelse and ALF support to the sponsor Rolf Kiessling, with Maria Wolodarski as the Principal Investigator and Stina Wickström as head of the immune monitoring. The work is also supported by the Swedish Foundation for Strategic Research and Vinnova through Pontus Blomberg and is a part of a CAMP project "Expansion of GMP Compliant Tumor Infiltrating Lymphocytes (TILs) in Xuri bioreactor." This CAMP project includes Karolinska Institutet, the Karolinska Cell Therapy Centre/Vecura, Cellterapi and Allogen Stamcellstransplantation (CAST) unit  and Cytiva (formerly GE Healthcare). The first part of the project is now finished and the publication can be found here; "Complete and long-lasting clinical responses in immune checkpoint inhibitor-resistant, metastasized melanoma treated with adoptive T cell transfer combined with DC vaccination". A webinar presenting the project results will be held in the next months, more details to come.
Immunotherapies are when the patients immune system is activated to respond positively against a disease, in this case cancer. By using the patients own TILs and DCs made from monocytes derived from the patients blood and loaded with tumour lysate, a highly specific patient/tumor response can be elicited, which in this study lead to remission and long term survival of patients that were not responding to any other treatments including antibody based Immune Checkpoint Inhibition, ICI.
Combination of these cellular therapy treatments seems to be key to the success of this study. Harnessing both adaptive and innate immune responses gives two angles of attack to seek out and kill the cancer that was evading traditional treatments.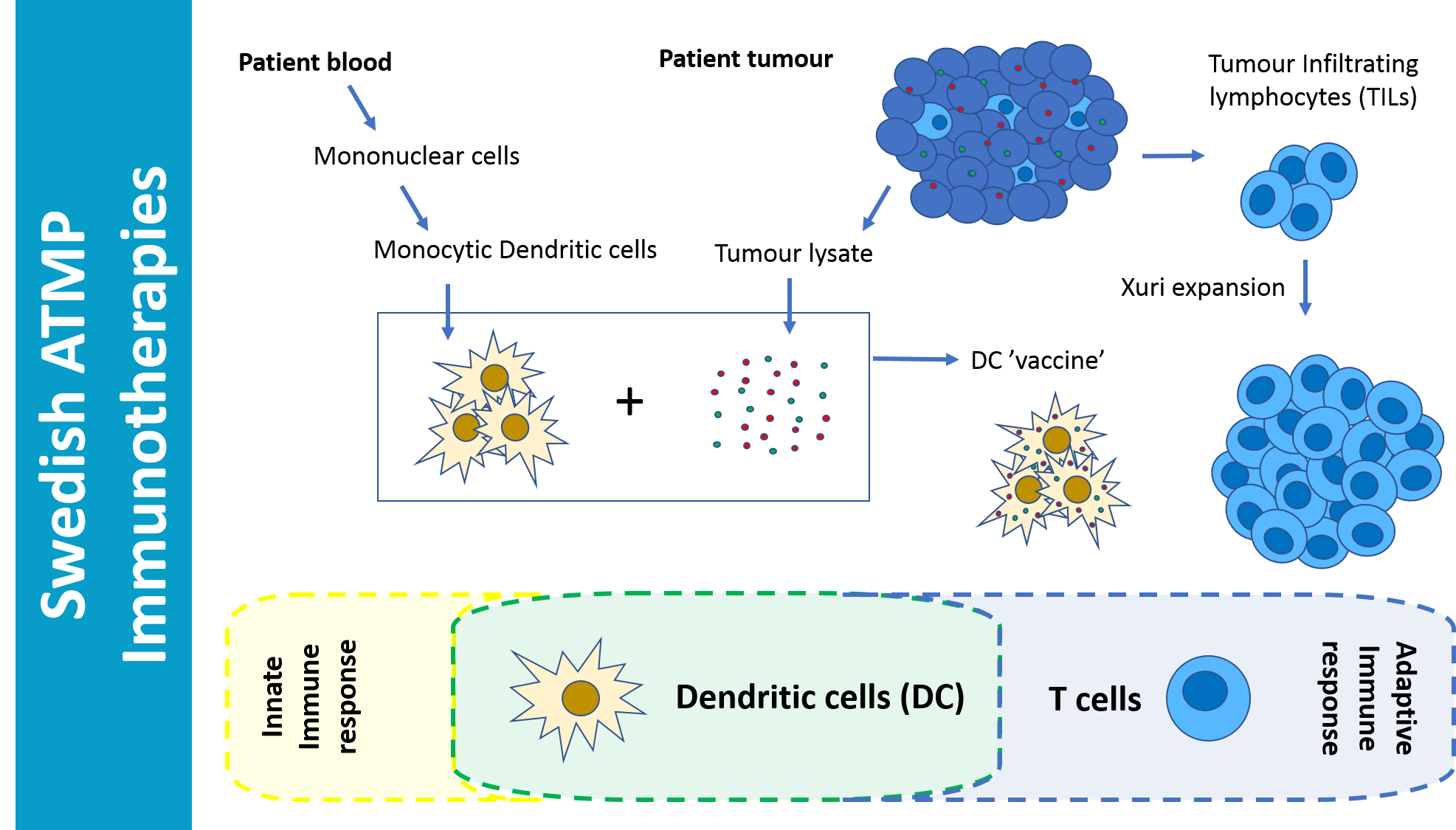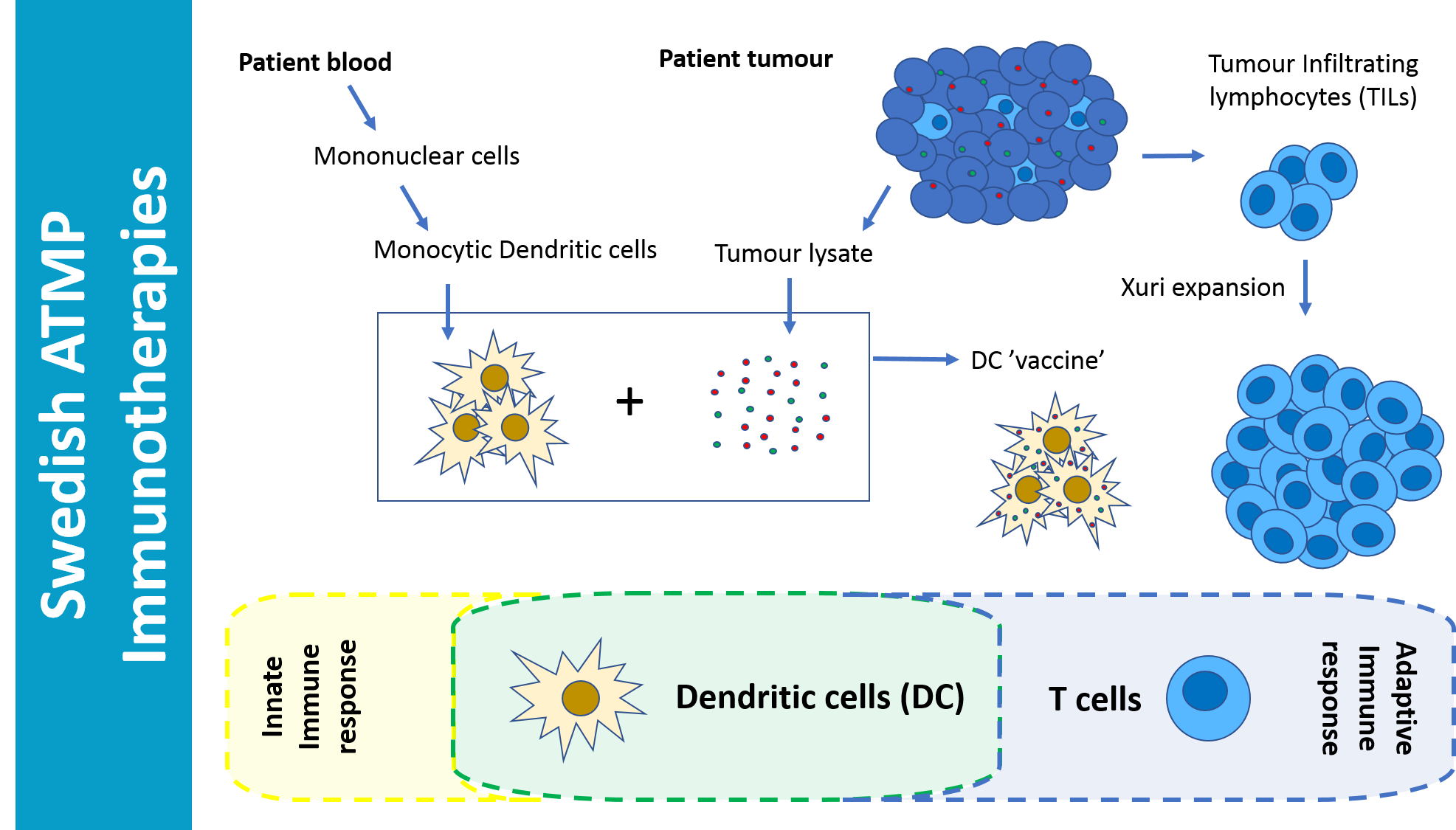 The TILs from this project were produced in two steps. In the first step performed at the Solna GMP-CCK facility, TILs were produced from a metastatic lesion or from several biopsies taken from a lesion. When sufficient numbers of TILs have been produced, these were further activated and then transferred to the Cytiva Xuri bioreactor at the Karolinska Cell Therapy Centrum/Vecura GMP facility. From a low number of TILs (usually < 1 million), a final number of 30- 50 billion autologous cells could be produced, provided the production has worked well. The DCs from this project were produced at the Karolinska Solna GMP facility, and derived from the patients monocytes purified from a leukapheresis material.
The research team at Karolinska University Hospital already has approval from the Swedish Medical Products Agency to treat 10 more malignant melanoma patients, and have recently also applied to treat other metastatic solid tumour types.
This study is a fantastic example of the potential of combining academic, manufacture and clinical expertise. ATMPs, manufactured cellular therapies, have a lot to offer to patients in need and we look forward to continuing to build the repertoire of cellular immunotherapy ATMPs that will match specific patient needs. There are a plethora of immune cells that could provide unique solutions to autoimmune or oncology applications, identifying these cells, appropriately manufacturing and delivering them are key to unlocking successes in the field of immunotherapy cellular therapies.