ATMP Sweden 2020 virtual
This years conference will be a collection of online events from the basics of ATMPs to the critical questions to be addressed right now!
If you have registered for the Spring 2020 physical event you will automatically receive login details. It will be the same link for the ATMP Introductory lectures, Swelife-ATMP wrap up, ATMP Innovations Milieu launch, NextGenNK update and CAMP update.
Presentation slides can be found on the relevant page.
NextGenNK update slides here: 201116 NK celler ATMP Hans-gustaf
NOTES: The ATMP Innovation Milieu workshops and CAMP board meeting are invite only. Find more precise timing for the introductory lectures here. 
We look forward to welcoming you virtually!
Registration is now closed.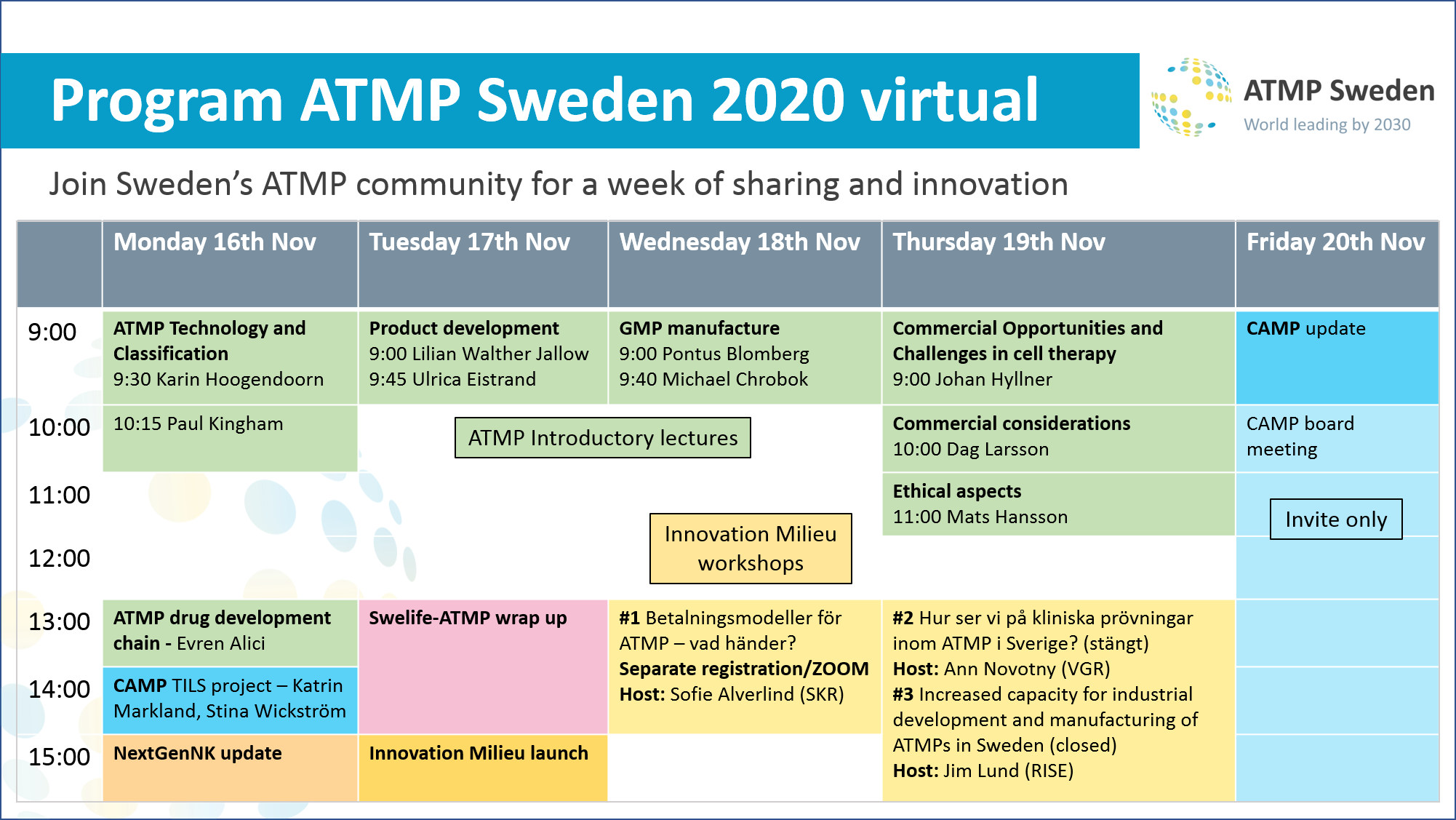 Gene/Cell Therapy Product (ATMP) Drug Development lectures – An introduction to the ATMP drug development field. This course gives an introduction to the ATMP drug development field as a whole, from bench to bedside to reimbursement. The course provides a broad understanding of ATMP development with an emphasis on early phases.
Swelife-ATMP has worked over the last 4 years to identify the opportunities and challenges in Sweden in regard to ATMP development and implementation but has played a critical role in establishment of national networks and competency exchanges. Tuesday 17th of November 13:00-15:00 hear about the activities, findings and how the value from these projects will be taken forward to continue driving momentum in the Swedish ATMP field.
The ATMP Innovation Milieu is a Vinnova funded project aiming for Sweden to be 'world leading in ATMP by 2030'. To achieve this they will utilise system innovation strategies to create novel ways of collaborating, implementing and and ensuring sustainability of the critical solutions required for ATMP in Sweden to achieve a prime position competitive Internationally. Tuesday 17th of November 15:00-16:00 is the official launch seminar of the ATMP Innovation Milieu. 
NextGenNK is Sweden's Competence Centre in NK based cellular therapies. Tune in Monday 16th of November 15:00-16:00 to hear the latest in research and clinical application of these technologies.
CAMP is Sweden's Centre for technology developments within ATMP including research translation, infrastructure, manufacture and delivery to patients. Friday 9:00-10:00 hear the latest in discoveries and developments that make this technology network a world leader in ATMP.