About IndiCell

Our overall aim is to develop and consolidate a sustainable, collaborative and world leading innovation milieu (IndiCell) based on Individual cell therapy that will continue also after the end of this funding. IndiCell will derive state-of-the-art workflows addressing generic steps in the process of deriving iPSC therapies products using our own world-leading projects as models. Those workflows and IndiCell's competence will decrease cost, labour, time and clear the regulatory path for future iPSC therapy projects in Sweden, in addition to lowering the threshold for innovations (Fig 1).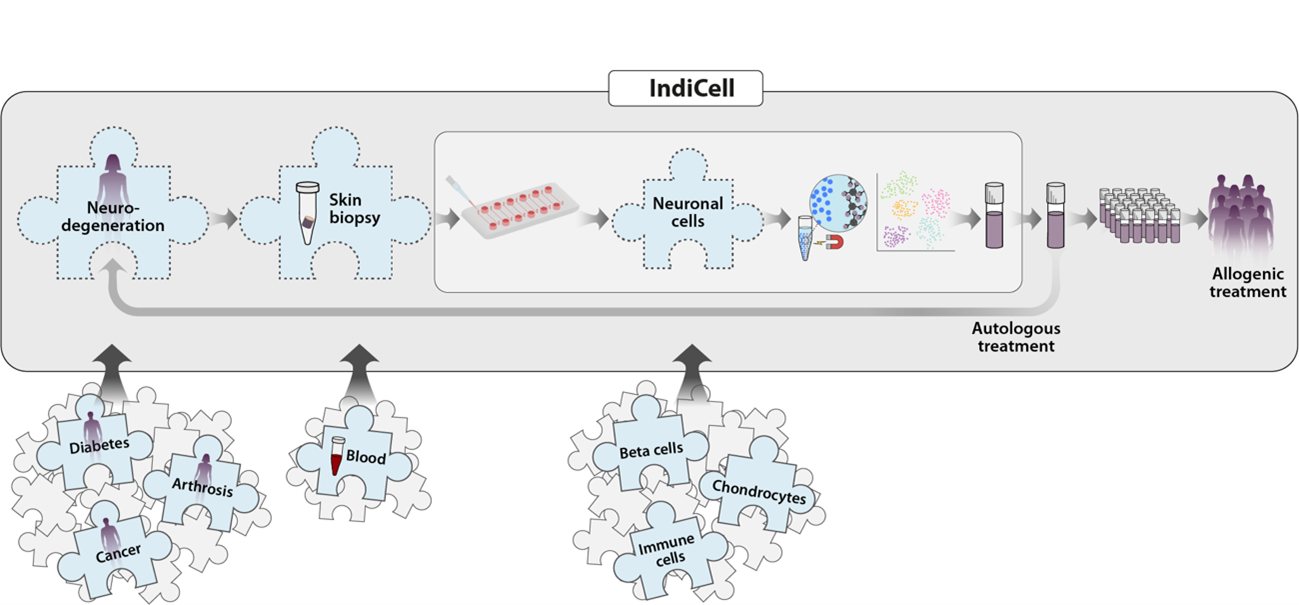 Figure 1, IndiCell will act as a scaffold consisting of generic state-of-the-art processes, SOPs and competence, where future iPSC-based cell therapies can dock in and enter.
Sub-aims and deliveries of IndiCell:
Build up a unique, strong and collaborative environment focusing on iPSC derived therapies. The first in Sweden and one of few in the world.
Facilitate the transition from basic science to innovations and further to clinical applications
Position Sweden as an international driver of autologous iPSC derived ATMPs
Establish a state-of-the-art workflow of standard operating procedures (SOPs), technologies and validated methods for generic steps in the procedures to derived autologous ATMPs.
Educate and maintain competence to create sustainability in this fast-moving and advanced field
Develop technologies, methods and procedures to significantly decrease the costs, time and labour for manufacturing autologous iPSC derived ATMPs
Take the leadership in coordinating, facilitating and executing iPSC derived ATMPs in Sweden and the world.
Our strategy for reaching our aims will be executed in six work packages with clear deliverables (Fig 2). The projects in each work package are complimentary but not dependent on each other, which increase feasibility. maximize synergy and lower risks of the project.
Work packages and partners of IndiCell:
WP1: Enabling patient specific cell procurement and bedside delivery. Development of generic processes i.e. SOPs for for bedside collection of cells as starting material for ATMP manufacturing and delivery that can easily be adapted for each indication (SUS, AcouSort, LU, KI, Karolinska).
WP2: Reprogramming-in-a-chip: Cutting time, labour and cost of iPSC manufacturing (LU, KTH, BioLamina, Karolinska)
WP3: Cell sorting: Validate procedures for negative and positive sorting for safer cell therapy products (LU, KI, MAGicBioProcessing, Karolinska)
WP4: Quality control methods: Development of precise and highly sensitive single cell-based QC methods to assess batch to batch variability and to reduce or eliminate the need for animal toxicology and functionality studies of each patient-specific cell product (LU, KI, Karolinska)
WP5: Innovation: Capturing potential for product development, commercialization and translation. (BioLamina, WP1-4 leaders)
WP6) Project management: Structure for the management, decision making, project follow-up, future and evaluation of IndiCell (LU, KI, all actors).
Contact details to doctoral candidates: