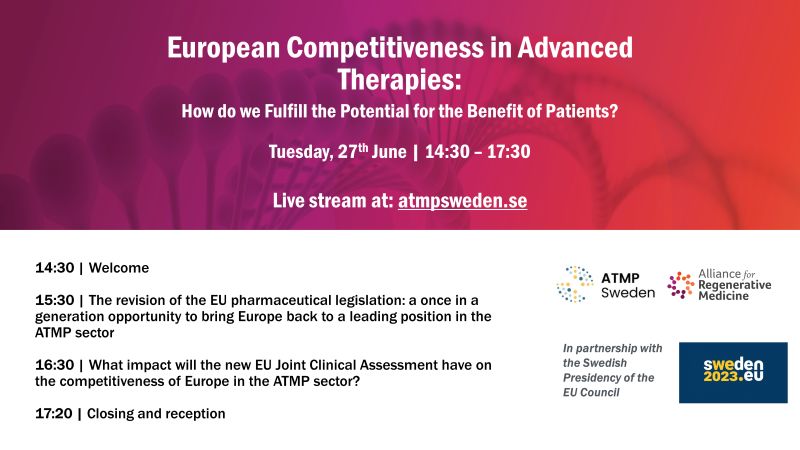 Join the 27th of June to discuss potential impact of recent EU legislation changes
**FIND THE RECORDING FOR THIS EVENT HERE**
The Alliance for Regenerative Medicine (ARM) and ATMP Sweden are inviting both physical and virtual attendance to a half day symposia on "European Competitiveness in Advanced Therapies: How do we Fulfill the Potential for the Benefit of Patients?"
What are 'Advanced Therapies'….most would know them as cell and/or gene therapies, with definitions differing somewhat over the globe, but in the EU they are regulated as Advanced Therapy Medicinal Products (ATMPs). See What are ATMPs for more info.
In recent years the EU has been sliding in it's global competitiveness in ATMP, investment decreasing due to limited success in implementation of market approved medicines. We look forward to discussing with you, how can we change this? How can we bring the EU back to a world leading position in this sector and in doing so, ensure access of EU patients to the best therapeutic options available and that our research, industry and jobs do not end up in other regions of the world.
This program is made up of key opinion leaders and experts in ATMPs discussing expected impact or opportunities in the recent revision of the EU pharmaceutical legislations and the EU Joint Clinical Assessment. This event will be held at Aula Medica, Stockholm, Sweden, as an official satellite to the Presidency's (invitation only) Conference on "Life Sciences: the Era of Personalised Medicine." June 26/27, 2023.
The ATMP sector offers a range of new therapeutic options to patients, including potentially curative;
gene therapy addition for genetic diseases like hemophilia, ADA-SCID
gene therapy 'deletion' for diseases like ATTRv/Skelleftesjukana
cell therapy for diseases like Parkinson's disease and Type 1 Diabetes
cell based immunotherapy (eg. CAR T) for untreatable cancers or autoimmune disease
These medicines aim to correct genetic disease and cure chronic disease. There are other types of ATMPs, like mRNA or Mesenchymal Stromal Cell (MSC) based medicines that aim to treat the untreatable.
How do we Fulfill the Potential for the Benefit of Patients? We create the necessary interactions for biomedical research to translate to Good Manufacturing Practice (GMP) manufacture, to go through clinical trials, commercialisation and reimbursement. Aside of novel ways of treating patients, this industry offers great potential for job creation at all levels of qualification, particularly in industrial scale manufacture.
Recent initiatives in the EU aim to support this, including;
Updated pharmaceutical legislation, that ATMPs must conform to; Reform of the EU pharmaceutical legislation (europa.eu). This revision aims in part to ensure timely and equitable access to safe, effective, and affordable medicines and ensure an attractive and innovation-friendly environment for research, development, and production of medicines in Europe.
Updated Regulation on Health Technology Assessment, including adding a Coordination Group on Health Technology Assessment (the 'HTACG') composed of Member States' representatives, mainly from HTA authorities and bodies. This group works to improve the availability for EU patients of innovative medicines, by ensuring efficient use of resources and strengthens the quality of HTA across the Union.
This event aims to explore new EU opportunities in ATMP through these legislative updates.
The recording of this event is now available EU ATMP competitiveness
The agenda is available here ATMP – Program (atmpsweden.se)